The real estate market in the UAE is abuzz with a plethora of exciting new projects. From residential property towers to commercial developments, there's a surge of upcoming projects in the UAE that cater to diverse preferences and investment opportunities. The demand for properties for sale in the UAE continues to rise, attracting both local and international investors keen on being part of this booming real estate market.
Among the notable upcoming projects in the UAE is the ambitious Saadiyat Island development project in Abu Dhabi. This promising venture by renowned real estate developers showcases a blend of residential and commercial properties, including residential buildings, residential complexes, and luxurious residential towers that redefine modern living.
One of the remarkable residential projects on the horizon is the Burj Binghatti, situated along Sheikh Zayed Road. This iconic tower, boasting sky villas and penthouses, is set to be a major attraction in Dubai's real estate landscape. Additionally, Aldar Properties, a key player in the real estate development companies, has acquired significant land on Al Marjan Island, Ras Al Khaimah, indicating promising future projects.
For those seeking properties available for sale, developers offer a wide range of off-plan properties across the UAE. Whether it's a villa project, a residential community, or a first residential development, the options are diverse. Investors can purchase off-plan properties in prime locations such as the Dubai International Financial Centre (DIFC) or along the Dubai Canal, ensuring attractive returns on real estate investments.

Tip: If you are looking for best interior looks for your purchased properties, Visit Ramirro Ceramica – A perfect tiling match for your luxurious properties which will help you boost up your property value in future! Try Ramirro Tiles today in UAE
List of New Projects
Burj Binghatti:
Burj Binghatti, located in the heart of Dubai, is an architectural marvel that promises to redefine the city's skyline. Standing tall with a sleek and modern design, this skyscraper exemplifies innovation and luxury living. Its strategic location offers residents unparalleled views of the bustling city and the iconic landmarks that Dubai is renowned for. The structure is designed with a focus on blending aesthetics and functionality, providing a range of amenities and facilities that cater to the diverse needs of its residents. From luxurious apartments to world-class recreational spaces, Burj Binghatti sets a new standard for contemporary urban living in Dubai.
Dubai Wasl Tower: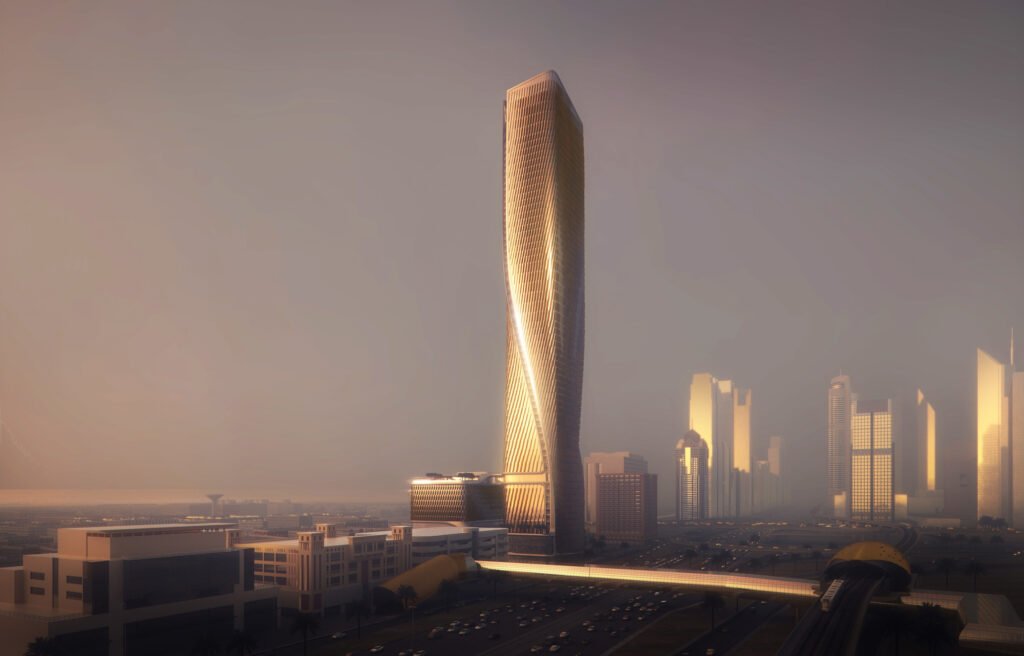 The Dubai Wasl Tower is poised to be an epitome of luxury and elegance in Dubai's real estate landscape. With its distinct and impressive architectural design, the tower aims to offer residents a lifestyle of opulence and sophistication. It combines cutting-edge technology with thoughtful planning, ensuring the highest standards of living. This residential marvel is strategically located, providing convenient access to key destinations within the city. The tower is set to feature a range of amenities including exquisite dining options, state-of-the-art fitness facilities, and beautifully landscaped spaces, offering residents a holistic living experience.
Baccarat Hotel and Residences Dubai:
The Baccarat Hotel and Residences in Dubai represent a fusion of opulence and artistry. Embodying the essence of luxury living, this project is set to offer a lifestyle of unparalleled sophistication. The design is a testament to precision and elegance, capturing the beauty of the crystal for which Baccarat is renowned. The residences will be an epitome of lavishness, featuring world-class amenities and bespoke services that cater to the needs of the discerning residents. With its prime location in Dubai, this project promises residents the best of both worlds – a serene haven within the bustling city.
Atlantis The Royal: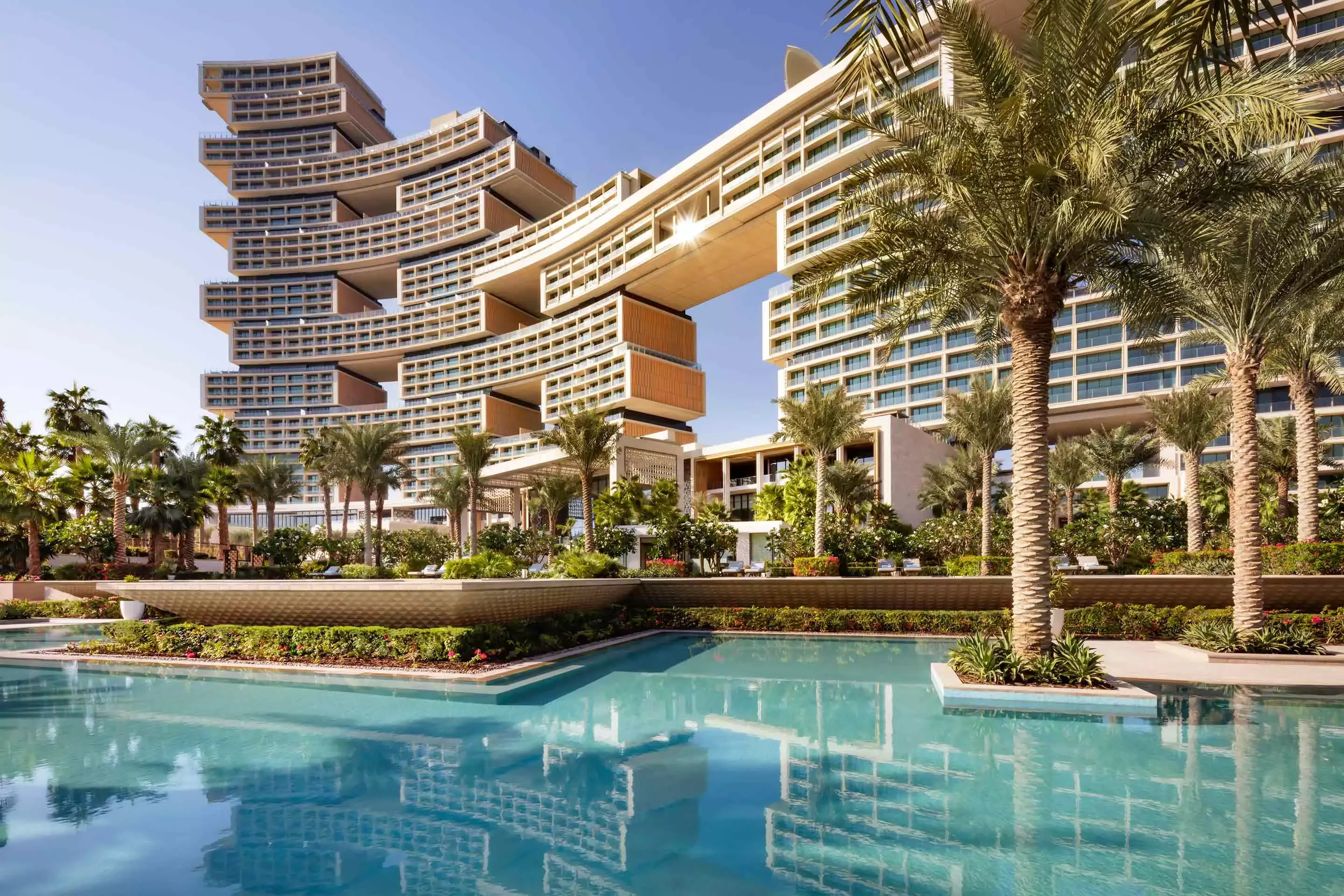 Credit: https://www.atlantis.com/atlantis-the-royal
Atlantis The Royal is an upcoming project that is set to redefine luxury and entertainment in Dubai. This iconic development is anticipated to become a landmark of extravagance, offering residents and guests an unparalleled experience. With its exquisite design and a location along the stunning Palm Jumeirah, the development ensures breathtaking views of the Arabian Gulf and the Dubai skyline. The project boasts of meticulously designed residences, luxury hotel suites, and a range of entertainment options, including a pristine private beach, awe-inspiring pools, fine dining restaurants, and an extensive spa. Atlantis The Royal is set to be a world-class destination, capturing the essence of luxury living in the heart of Dubai.
Saadiyat Grove:
Saadiyat Grove, situated in Abu Dhabi, represents a paradigm of modern urban planning and sustainable development. This ambitious project is designed to create a self-contained community that offers a balanced and harmonious lifestyle. With a focus on sustainability, green spaces, and smart urban solutions, Saadiyat Grove strives to be environmentally responsible while providing top-tier amenities. It aims to cater to the needs of diverse demographics, offering a mix of residential, commercial, and leisure spaces. The project emphasizes a holistic approach to living, ensuring a seamless integration of nature, culture, and technology.
Dubai Vertical City:
Dubai Vertical City is an audacious project that epitomizes Dubai's ambition and vision for the future. With a design that defies convention, this project aims to push the boundaries of architecture and urban planning. The tower is set to be a vertical city, housing diverse spaces for living, working, leisure, and commerce. It symbolizes sustainability and efficient use of space in a rapidly growing urban landscape. Dubai Vertical City stands as a testament to the city's position as a global leader in innovation and modernity.
Louvre Abu Dhabi Residences:
The Louvre Abu Dhabi Residences are an integration of art, culture, and refined living. Located in proximity to the iconic Louvre Abu Dhabi museum, this project is designed for those seeking an extraordinary living experience. The residences blend elegance with artistry, providing a unique and culturally rich ambiance. Residents will have the privilege of being surrounded by magnificent artwork and architectural marvels, creating an environment of inspiration and creativity. The project is a testament to Abu Dhabi's commitment to nurturing a sophisticated and artistic community.
Dubai Islands:
Dubai Islands offers an idyllic retreat from the bustling city, presenting a vision of serene island living. The project is set to harmoniously blend natural beauty with modern infrastructure, creating an appealing proposition for both residents and investors. With a focus on sustainability and environmentally responsible development, the islands are designed to be a haven of tranquility. The integration of leisure, residential, and recreational spaces ensures a balanced lifestyle in the lap of nature.
Meydan One Mall:
Meydan One Mall, located in Dubai, is destined to redefine the shopping and entertainment experience in the city. As an expansive complex, it aims to become a premier destination for retail therapy, dining, and leisure activities. The mall boasts a plethora of high-end retail outlets, international dining options, and entertainment zones, making it a one-stop-shop for residents and tourists alike. The incorporation of cutting-edge design and innovative concepts ensures an immersive and delightful shopping experience.
Dubai Agri Hub:
Dubai Agri Hub is a forward-thinking project focusing on sustainable agriculture and food security in the UAE. As part of the vision for a more self-sufficient and eco-friendly future, the Agri Hub aims to revolutionize agricultural practices in the region. It emphasizes innovation in farming techniques, resource optimization, and environmentally conscious approaches. The project is a testament to Dubai's commitment to sustainability and meeting the growing demands for food production in a rapidly evolving urban landscape.
Jubail Islands:
Jubail Islands is an ambitious project that seeks to provide an exclusive living experience within a harmonious and tranquil environment. Situated amidst breathtaking natural surroundings, the development aims to offer residents a peaceful retreat from the urban hustle. The project emphasizes sustainable living and innovative design, ensuring a seamless integration with the natural landscape while providing modern amenities and comforts. Jubail Islands strive to be a testament to the balance between modern living and nature in the UAE.
New Tiles Designs by Ramirro Ceramica – Architect, builder and Interior Designer's Tiling Choice!
Ramirro Ceramica continues to be the preferred choice of architects, builders, and interior designers seeking innovative and contemporary tile designs. Their latest collection showcases cutting-edge designs that combine aesthetics, functionality, and durability, catering to the distinct needs of these professionals.
Architectural Elegance: Ramirro Ceramica offers tiles that exemplify architectural elegance. The designs are crafted to seamlessly integrate with modern architectural styles, providing a sophisticated and refined look to any space. Architects appreciate the precision and versatility these tiles offer in bringing their architectural visions to life.
Builder's Reliability: Builders trust Ramirro Ceramica for the reliability and durability of their tiles. The new collection includes tiles known for their strength and resilience, ensuring that the projects they undertake are not only aesthetically pleasing but also built to endure the demands of time and usage.
Interior Designer's Palette: Interior designers find a rich palette of design possibilities with Ramirro Ceramica's new tile collection. From vibrant colors to subtle textures, the tiles provide a wide spectrum to unleash creativity and transform spaces. These tiles become a canvas for interior designers to craft unique and visually appealing interiors.
Functional Versatility: The latest designs by Ramirro Ceramica are versatile in function, fitting seamlessly into a variety of spaces. Whether it's for commercial projects or residential spaces, these tiles offer a range of options suitable for different applications, enhancing both the form and function of the design.
Innovative Patterns and Textures: The collection showcases innovative patterns and textures that captivate designers and builders alike. These tiles provide an artistic touch, adding depth and dimension to surfaces, making them a focal point in any design. The intricate detailing and unique textures set Ramirro Ceramica's designs apart.
Ramirro Ceramica's commitment to innovation and quality ensures that their tiles remain at the forefront of architectural, construction, and interior design projects. With their new tile designs, they continue to set trends, providing professionals with exceptional options to elevate their creations.
Conclusion
Ramirro Ceramica is the unrivaled choice for providing the most exceptional tiling designs for the all above listed projects in UAE. Their unwavering dedication to quality, embodied in their motto "Quality in Every Square," sets them apart. Ramirro Ceramica's commitment to excellence is evident through a rigorous 10-step quality check, ensuring that each tile meets the highest standards in the industry.
Their diverse range of tiles, encompassing porcelain and ceramic variants, undergoes comprehensive testing for attributes such as strength, water absorption, glossiness, and more. This meticulous quality assurance process ensures that every tile leaving their facility is not only of superior quality but also built to withstand the test of time.
Ramirro Ceramica offers not only superior tile quality but also competitive prices, making top-tier products accessible to all. Whether for new residential ventures or upcoming commercial projects, they strive to provide the best rates for high-quality tiles.
The commitment of Ramirro Ceramica to delivering quality in every square extends beyond words—it's a promise. It signifies their mission to enhance the aesthetic and functional excellence of spaces in UAE, exceeding expectations in terms of durability, aesthetics, and performance.
By choosing Ramirro Ceramica, customers invest in quality, reliability, and a superior tile experience that enriches the beauty and durability of their spaces. Their extensive tile range and dedication to delivering the best ensure that Ramirro Ceramica remains the trusted name in the realm of tiles in UAE.